This may be the only Haulix company update of the year that falls on a holiday, and to be honest we haven't the slightest clue how to make the most of the occasion. We do love Halloween however, and we love music that sounds inspired by the holiday even more. Take Harley Poe, for example. Hailing from Indiana with music that could double as the song version of your favorite horror film, this folk punk outfit offer unique thrills and chills that make it possible to enjoy Halloween all year long. Check it out:
Each and every Friday we like to take a brief break from our regularly scheduled programming to update and reflect on everything happening at Haulix HQ. We are far more than a music blog, as many of you already know, and posts like this give us an opportunity to share more our efforts with all of you.
WE HAVE A DEV UPDATE!
Last week was the first in over a month to not end with some kind of major development update, and it looks like that will remain the case for the foreseeable future as our team of creative minds continue to churn out releases that improve the Haulix experience for clients and members of the media alike. This week, our development team released a Promo Grouping feature that allows for clients to better organize and assign their team efforts. Here's how it works:
Continuing our recent string of platform updates, we are pleased to announce Promo Grouping — a feature that will simplify your organizational efforts. This tool is one we have received many requests for, and we think you'll find implementing it to be incredibly easy:
Sign into your Haulix account. On the Dashboard you will see your current promos listed at the bottom of the screen.
To begin creating Groups, first click the 'Promos' tab at the top of the page. When the new page loads, click the 'Groups' button at the top of the page. A new window will open and ask you to name your new group. Enter the desired title and click 'Create.' Another window will ask you to confirm the information. Agree and your new group will appear on the left rail of the 'Promos' page.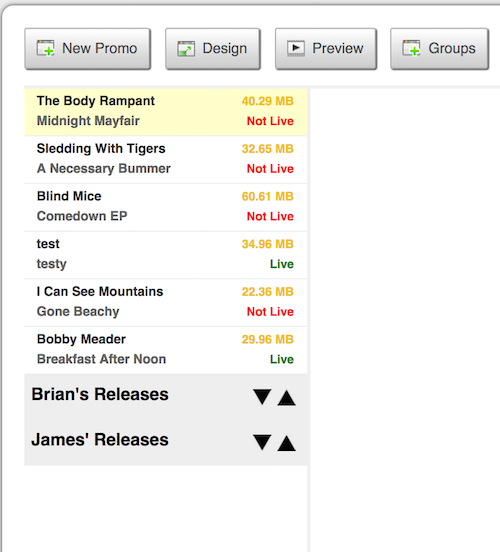 Once the Groups have been created, it's time to organize your promos. Using the list of promos on the left rail, drag and drop each promo name underneath the group you want it assigned to. If you would like to organize the order in which the groups appear, use the arrows next to each group title to move them up or down the list.
You can also assign your new promos to a group as they are made. When editing a promo, click the 'Groups' dropdown list on the promo screen and select the group you wish to assign that particular promo to:
The Groups created on these pages and the promo order set in place will immediately be reflected on your Dashboard and Invitation screens.
Deleting a group is as easy as creating one. Return to the 'Promos' screen, click 'Groups,' then click the red 'X' next to the Group you wish to remove. Deleting a group will not delete the promos contained within that group.
Please note: Promo groups cannot be added or deleted by Sub-Administrators. Only Master Account holders are able to create and organize promo groups.
On the promotional side of things, our very own James Shotwell appeared on the 100 Words or Less Podcast. He spoke of Haulix and our plans for the future, as well as his own life experiences. Click here to check it out.
Our own podcast, Inside Music, is taking the week off. We will be back next Thursday with a brand new episode and plan to continue delivering new content every week in November. Fun fact: James turns 27 this month. He's the youngest on our staff, but soon we won't even be able to call him young! Where does the time go.
In case you missed anything this week, here is a rundown of our latest content:
How To Defeat Writer's Block Without Going Insane
8 Steps to Creating an Effective Sales Promotion Strategy for Your Music
What Exactly Does An Artist Manager Do?
How To Fund Your Own Full Length Album
Journalism Tips: The Patience Test
New Client Feature – Promo Groups
Music Industry Job Board (10/26/14)
That's all the updates we have for you this week. Have a safe and absolutely insane Halloween. We're taking tomorrow off from posting new content, but will return Sunday with a new Job Board update. Thank you for your continued support and readership.